Take Your Pharmacy to the Next Level with Electronic Product Labeling
What are ESL (Electronic Shelf Label) solutions? 
Electronic Shelf Labeling (ESL) solutions allow pharmacies, grocers, and other retailers to dynamically update the prices of their in-store products, without physically changing any of the price tags. Product prices need to be updated just once in a backend system (a CMS), or they can be pdated directly in the ERP system you use, which then syncs with the backend. And voila – shelf prices are automatically and seamlessly updated for both the pharmacist's and the retailers' convenience.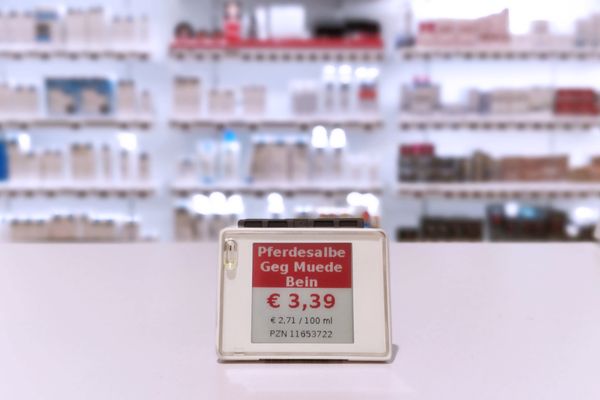 The ESL solution that pixely provides to pharmacies includes the entire package: the shelf rails, the electronic labels, the CMS needed to update the price tags, and the ERP integration (if one is needed). The pixely team deploys, implements, and supports the entire solution for our clients, training their staff on how to use it efficiently. The trend of moving more functionality to the cloud is reflected in this solution as well; managing in-store electronic labels from a cloud solution further increases customer value and simplifies operations.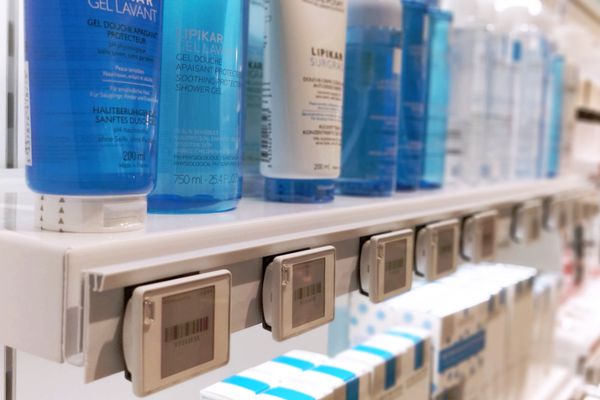 The benefits of digitizing your pharmacy operations 
The global Covid health crisis has transformed the healthcare and pharmaceutical industries forever, all in the course of a year. Today, it is nearly impossible for pharmacies of any size to keep up with the constantly changing product prices and the introduction of new pharmaceutical products. Thus, digitizing the shelves of your pharmacy has never been more pertinent than it is in 2020-2021. If you were previously procrastinating the implementation of ESL, now is a good time to start.  
The main benefits of shelf digitization for pharmacies are as follows: 
Speed up the process of updating prices

 and simplify operations

 

Save time

 and money currently 

spent on 

never-ending

 manual price updates

 

Always display the most recent product prices 

 

Avoid accounting problems as a result of price inconsistencies

 
React rapidly to market, product and pricing changes

 

Enable discounts or 

promo campaigns

 without the need of changing anything in the store

 
Recent ESL use cases: changes in VAT regulation  
 The recent change in VAT regulations across Europe mandated the update of all product price tags in retail stores, including pharmacies. Without having an ESL solution in place, this would have been a very time-consuming and laborious task for pharmacy store owners and managers.  
In many cases, retail managers opted not to update price tags manually due to the workload involved. Instead, they completely removed them, in order to meet the newly imposed requirements. Changing the price tag of every single product in time to comply with the new regulations simply wasn't feasible for most pharmacies, no matter how big their staff.  
Being able to rely on a robust ESL solution can make a huge difference in your daily operations, your staff's job satisfaction, and the professional, modern look of your pharmacy store.  
Implementing ESL in your pharmacy or other retail shop 
Recent improvements in the electronic shelf label hardware have led to a better performance and lower prices, making these solutions accessible even to the smaller pharmacy shops. ESL can work for large, mid-sized and small business pharmacies, budget-wise. The deployment and implementation of the solution are fast and effortless on your side – your pharmacy can be up and running with electronic pricing in just a few weeks.  
Why you should consider updating your store today 
With the rapidly changing Covid situation worldwide, keeping up with product price changes in your pharmacy can be a full-time job – but it doesn't have to be. Forget about manually writing down prices on price tags, only to see them outdated by the time you hang them up!  
Contact the pixely team for a free consultation on our robust ESL solution; it can be the best decision you've made for your business in ages. 
Get to know our work
Pixely has sucessfully implemented and supported geospatial, retail, blockchain, development, and other tech projects for leading companies across a variety of industries.
Get in touch for a call or a demo
Pixely Technologies GmbH,
Baierbrunnerstr. 25, 81379 München, Deutschland
Pixely Technologies E.O.O.D.,
Sofia, Bulgaria